Trading Newsletter – 11/8/2020
Quote of the Week
"Bad times coupled with good reflections provide some of the best lessons."
– Ray Dalio
Finally…
After a few nights of what seemed like exceptionally slow ballot counting, Joe Biden has been elected the 46th President of the United States. The media coverage of the 2020 presidential election has been forced-fed down the throat of the entire world. It was a long, grueling process and, finally, the American people have spoken.
The uncertainty of having an unclear victor in the election seemed to be priced into the markets as of late last week, but this past week was different. It was the biggest weekly jump in markets since April.
Going into next week, we're extremely bullish as a contested election for the most powerful position in the world is no longer a threat. Even with Trump threatening legal action, most experts claim he has no case and should just concede to Biden, but, knowing Trump, he will fight this to his grave. Trump has between now and December 14th to make legal maneuvers as that is when the electoral college officially declares the winner.
Major News
Will Trump concede or fight? Members in his own campaign and the White House have tried to talk him into it but only time will tell. Joe Biden has been announced as the winner, but ballot tallies are not yet final until December 14th.
Earnings season is coming to an end, and now that investors have a clear future president, get ready to see some heavy sector rotation. Tilray and Nikola have earnings tomorrow, 11/9, which will hopefully provide a glimpse into how the sectors (cannabis and electric vehicles) fared.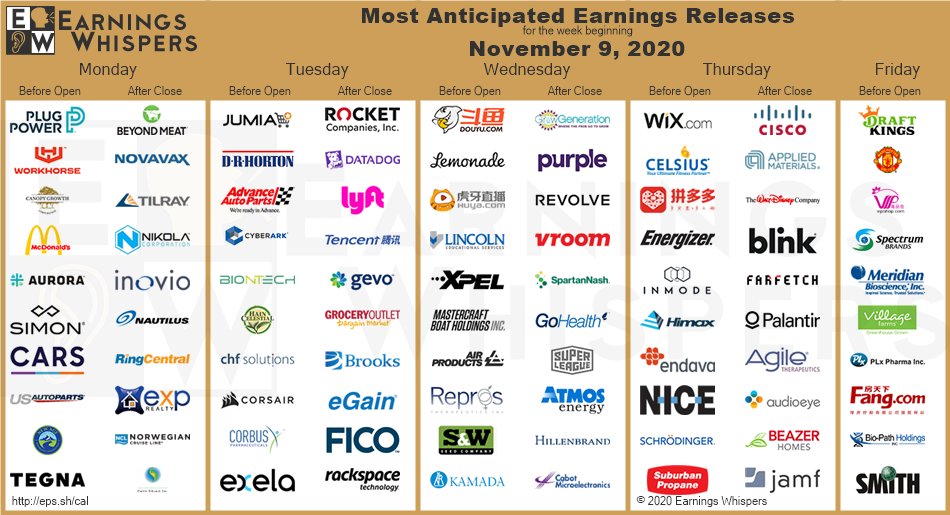 *See below for full calendar Presented by Earnings Whispers (check them out here)
Upcoming Economic Events
As the Federal Reserve has pumped trillions of dollars into the economy, the one assumption they've held true is inflation will rise. We saw some deflationary data during the heights of the pandemic, but what could be even worse than what we experienced in March is the Fed continually pumping stimulus into the markets while seeing no real inflation.
On watch for next week:
Consumer Price Index (CPI): CPI should be the top watch for economic data this week. It tracks a basket of goods that can tell whether or not prices are rising or declining.
Initial Jobless Claims: Keep an eye on this number, as it's usually considered a leading indicator in the economy.
Producers Price Index (PPI): This will give us a glimpse into whether prices are rising for producers of goods/services
Charts, Charts, & More Charts
Color codes are as follows:
Avery (ATM) = Blue
Haseeb (Airdrake) = Green
Tom (Tomikazi) = Red
These charts are intended to help you to become a better trader, so don't take every trade seen and expect to make money. Do you own due diligence and research before investing and/or trading.
ATM's Charts
S&P 500 Futures/SPY (1-day timeframe)
Last week the market went completely parabolic off of the presidential election news. Though I do believe SPY is starting wave 1 (impulse wave), we aren't entirely in the clear yet, as you can see above. With a wave 1 forming, there's going to be a wave 2. The yellow line is the highest probability, the purple line is the second highest probability, and the light blue is the least likely path to be taken to complete an A-E bull flag.
If this gets over the $353-$355 supply zone, the light blue path shows how it can push higher towards $363 where we will see a tight consolidation range before moving higher.
If we reject $353 and break below $349, the yellow path will be the key focus for the week. In this scenario, we will likely test the $340-$342 demand zone before a bounce to the target of $350. After that it will potentially head back downwards to the $336-$338 demand zone before moving higher for Impulse Wave 3.
If we fail to hold the $336-$338 demand zone, the purple path could play out down to bull flag support at $322-$326. If we do meet this demand zone look for an explosive move out of this weekly demand like last week.
Short term I am bearish, but for the rest of the year I am overall bullish in the market.
This week's bull case is invalidated on a close below $318.
Support to watch: $349-$350 / $340-$342 / $336-$338 / $322-$326
Resistance to watch: $353-$355 / $360-$363
NFLX (1-day timeframe)
This is going to be one of my favorite plays to watch for the week. NFLX looks to have completed 5 waves up for the major Impulse wave 1. What I'll be looking for is a retest of the $495-$500 demand zone/AVWAP(purple line) to show that Netflix belongs in the $500 club (hopefully $600 soon). I'll be looking to get long on Netflix for the Third of a Third wave (Sub wave 3 of 3) which is the strongest wave of the 5 impulses.
A close below $485 invalidates this long trade.
Support to watch: $495-$500 / $485-$488
Resistance to watch: $525 / $541 / $550-$555 / $575
SQ (15-minute timeframe)
Last week SQ had a massive move based on earnings beating estimates. I believe there is still more momentum to take place for SQ. Look for this one to continue a bit higher to touch the top of the broader channel ,after this falling wedge completes.
This long invalidates on a close under $195.
Resistance to watch: $200 / $205 / $207 / $210
Support to watch: $198 / $195-$196 / $191 / $188
ZM (1-hour timeframe)
ZM's setup is very similar to Netflix, which puts it high on my watchlist for this week. There is still one more minor wave to the upside towards the $509-$514 supply zone before the correction follows. If you choose to play the the short term long side, look for ZM to explode right off open for a quick scalp.
Resistance to watch: $509 / $514 / $521 / $551
Support to watch: $500 / $490 / $484 / $472
This long trade invalidates on a close below $470.
PINS Update (1-hour timeframe)
First off, PINS was a beautiful setup that played perfectly off our $56.50 support zone. So, congratulations if you got in at the bottom. What I'm watching for now is a correction towards the $61-$62 demand zone before looking to go long again on the impulse wave 3.
Resistance to watch: $65-$66 / $68 / $70 / $75
Support to watch: $60 / $61 / $62
This long idea invalidates on a close below $60.
Airdrake's Charts
Lottery Play – SNAP (4-hour timeframe)
Disclaimer: Please be aware you can potentially lose all of your entry cost into this play seen as it is a 'lottery play'.
The following play is intended to be low cost and high reward, driven by the following analysis:
Play: Call Debit Spread with expiration of 11/06/2020
Buy the call:  $48
Sell the call:  $50
Projected cost of this lotto play, as of right now, is $29 with a max profit of $171, per spread.
Profits/loss can be taken earlier at any time before expiration with no penalty.
News:
11/06/20 – Hit new 52 week high
11/05/20 – Unusual option activity reported (buyer of $65 call for 01/21/2022 expiry)
10/20/20 – 17% jump in revenue; daily active users top estimates
10/20/20 – Jefferies raised price target from $30 to $33 (15% upside)
Analysis: SNAP is continuing in high momentum with a bullish market. Keep in mind that institutional holdings are adding SNAP to their portfolio since the release of a stellar earnings report. We saw a squeeze happen on Friday, but I think there's more to come. $50 is a potential target since it's known as a 'mental number'. One key factor is making sure market conditions continue to be bullish for this to extend into the upcoming week.
Support to watch: $44.85 / $44.10 / $43.64
Resistance to watch: $50
GOOGL (1-hour timeframe)
News:
11/5/20 – Report released showing short sellers have lost $1.7 billion this year. Buying pressure building as traders are starting to cover positions
11/5/20 – Hit 52 week high
10/29/20 – Earnings beat with ad spending surging
Analysis: Tech sector is popped this past week and we're always following the trend. GOOGL broke above long-term resistance on daily chart and is bull flagging on 1-hour chart.
BABA (1-hour timeframe)
News:
11/6/20 – UBS raised price target from $330 to $340
11/5/20 – Cloud computing revenue grew 60% YoY
11/5/20 – Earnings beat estimates with revenue meeting estimates
11/3/20 – Hong Kong suspends IPO of Ant group (BABA is currently invested)
Analysis: Stock took a beating with the news of Ant Group's IPO being suspended. Recent earnings were phenomenal while the chart is currently showing a double bottom on 1-hour chart.
ATVI (1-day timeframe)
News:
10/29/20 – Earnings beat estimates but with lower cash flow than expected
10/23/20 – Price target upgrade to $96 (18% upside)
Analysis: There's a current cup and handle on the daily chart. This is a 'catalyst play' since the news Call of Duty is released at the end of this coming week. This a potential run up play so be aware of "buy the rumor, sell the news". ATVI can easily run up and sell off on the release dat (11/13/2020). The ideal entry point is over $80 or a break over the resistance line.
Tomikazi's Charts
CRM (15-minute and 1-hour timeframes)
CRM is releasing earnings on December 1st and is currently in a massive bull flag on the 1-hour timeframe. I am looking to play either side on the break of this flag. $260-262 is a key area. CRM is currently sitting at the top of the flag channel and at resistance.
Bullish Scenario
A break above $260-262 zone could send CRM towards all-time highs of $285. An ideal scenario would be a break above the resistance channel with a retest soon after. This would confirm it as new support.
Bearish Scenario
Failure to hold the $260-262 area could signal a reversal down towards $223 area. Key areas are $258 and $255. A break on either of these could further confirm a reversal towards the bottom of the channel.
AAPL (15-minute and 1-hour timeframes)
Apple has an event this week on November 10th at 1:00 PM EST. This could propel Apple out of it's current bull pennant and back towards all-time highs.
Bullish Scenario
A break above $119 and hold over $120 would be a great sign that it's heading back towards the $135 area.
Bearish Scenario
Failure to break out of the pennant would see a "sell the news" scenario, as AAPL could retest the lows of $108.  A break of the pennant on the downside would most-likely send AAPL to $105.
DIS (15-minute and 1-hour timeframes)
Disney has earnings on November 12th (after market). A good report could prove to be a strong catalyst to push it higher into the next week. In the 1-hour timeframe chart, I have highlighted two scenarios. I believe both scenarios push DIS towards 129-130$ by earnings, while the next path being decided by how investors respond to DIS+ subscriber growth and the earnings release.
Bullish Scenario
A great earnings report and a breakout of the channel could propel DIS back towards all-time highs (around $150). I have highlighted key areas with the teal lines to show support and resistance areas.
Bearish Scenario
Failure to break out of the downtrend and a weak earnings report could send DIS back down towards $115 – 117 area in the short term.
– The Financial Cloud Team
Disclaimer: Investing involves substantial risk. Neither TFC, the publisher nor any of their respective affiliates make any guarantee or other promise as to any results that may be obtained from using the Newsletter. While past performance may be analyzed in the Newsletter, past performance should not be considered indicative of future performance. No reader should make any investment decision without first consulting his or her own personal financial advisor and conducting his or her own research and due diligence, including carefully reviewing the prospectus and other public filings of the issuer. To the maximum extent permitted by law, the Author, the publisher, and their respective affiliates disclaim any and all liability in the event any information, commentary, analysis, opinions, advice, and/or recommendations in the Reports prove to be inaccurate, incomplete or unreliable, or result in any investment or other losses.